Siliphos® - Clinical Research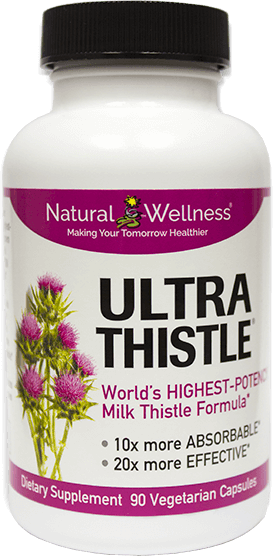 The clinical studies included in this section attest to both the safety and effectiveness of Siliphos®, the active ingredient in UltraThistle®.

Pharmacological and toxicological results, added to those found from pharmacokinetic studies, have provided the basis for clinical testing of SILIPHOS®. Clinical studies, here reported, have been performed to evaluate the properties of this new complex in subjects with "pathological" impairment of liver function. The results, including the optimal tolerability obtained in these "extreme" clinical situations, give strong support for the use of SILIPHOS® in those "non pathological" conditions mostly associated with the action of damaging agents on liver cells. Vailati et al.18 performed an open randomized trial on 65 patients suffering from chronic persistent hepatitis.
The protective effects of SILIPHOS® increased with the dose and 240 mg/die p.o. (as silybin) resulted to be the mean therapeutic dose whereas 360 mg/die p.o. (as silybin) was recommended for the treatment of the severe resistant form of hepatitis or during the initial management of the patients. In a study carried out on 232 patients with alcoholic, acute viral or iatrogen hepatitis, the subjects have been treated with 240 or 360 mg/die p.o. (as silybin) for 120 days. No side effects have been observed and SILIPHOS®, in comparison with placebo, showed its ability to improve liver condition.19
In a short-term pilot study performed on 20 patients with chronic active hepatitis, the biochemical parameters related to hepatocellular damage and necrosis were significantly reduced after 7 days of treatment with 240 mg/die p.o. (as silybin) 20 (Fig. 9). Finally, a 2-month study on 8 patients complaining of chronic active hepatitis has shown the ability of SILIPHOS® to reduce serum MDA concentration and to increase galactose elimination by the liver.21
More Siliphos Research Results >>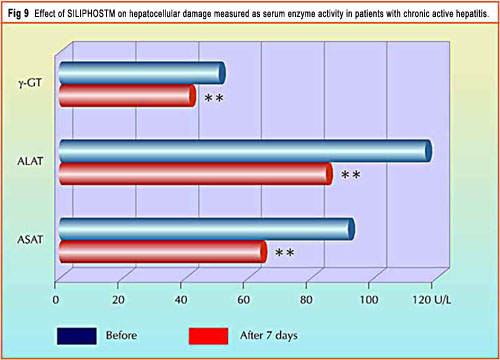 18. Vailati A., Aristia L., Sozzè E., Milani F., Inglese V., Galenda P., Bossolo P.A., Ascari E., Lampertico M., Comis S., Marena G., Fitoterapia 64, 219 (1993).
19. Marena C., Lampertico M., Planta Med. 57, suppl., A124 (1991).

20. Buzzelli G., Moscarella S., Giusti A., Duchini A., Marena C., Lampertico M., Int. J. Clin. Pharmacol. Ther. Toxicol. 31, 456 (1993).

21. Moscarella S., Giusti A., Marra F., Marena C., Lampertico M., Relli P., Gentilini P., Buzzelli G., Curr. Ther.Res. 53, 98 (1993).
---